---
The Kettler Cool Top is available in 4 different styles, and is therefore likely to suit most nursery facilities. Fitted is the youth desk by a solid tabletop, which can be put completely inclined. In addition to the large drawer under the table top, this model also offers a scaling / clamping bar at the front.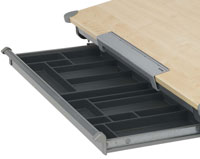 Unfortunately, the inlay of the drawer insert is not included. This can be bought for about 50 USD as an accessory with which you end up with a total of around 400 USD for this student desk. The desk is height adjustable and suitable for children and adolescents from 1.08 to 1.88 meters height. Of course, only with the corresponding children desk chair or swivel chair for teens. By 2 wheels u can move the desk across the room at any time, without damaging the floor. Because of the weight of 69 pounds, the table stands very safe, but would otherwise at the slightest movement leave scratches on the laminate.
The table surface is with 110 x 68 cm huge. However, one should consider whether it is required in the full size, or whether it is not meaningful to choose a desk as the Kettler Kids Comfort 2. By fully tiltable table top, it is unfortunately impossible to set up a monitor, desk lamp or the like.
Also available is a Kettler Roll on Drawer Unit  that can be placed next to the desk. The roll container is just like the youth desk with corresponding edge and corner caps. The workmanship is very high, as usual Kettler desks and assembly can be usually in about 1.5 hours alone accomplish.
Our conclusion:
A definite recommendation if no part tabletop is required!
Kettler Cool Top Desk, Maple/Silver
Basic desk model with many sophisticated details
Inclination of desktop adjusts to 28 degrees
Adjust table height to tailor to any stature
Includes practical clamping bar
Additional accessories available (not included)